Fantasy Fest Guide 2023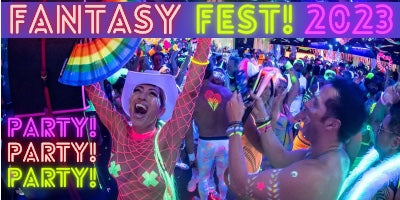 Fantasy Fest 2023 Guide from a Local
From October 19-29th, Fantasy Fest takes over Key West, Florida for a 10 day party full of themed events, parades, costumes, and pure unadulterated fun!  Here's a list of all the official and non-official (locals know best) parties during the week of Fantasy Fest.
This years main theme is Uniforms and Unicorns! 
Thursday, Oct. 19th 
This is more of a pre-fest, but still lots to do like the Black Crowes concert at the amphitheater, or The Whalers at Key West Theater, along with tons of daily activities like body painting, shopping, and sunset celebrations. 
Friday and Saturday, Oct. 20-21-- Goombay Celebration
A must experience event is the Goombay Festival in Bahama Village. Probably the only family friendly event during Fantasy Fest. Lots of good food. Streets closed off for arts and craft venders and did I say lots of food. This is a free event and really fun, just remember it will be hot!! 
Local tip: wear a hat, bring extra sunscreen and water. 
Friday, Oct. 20 --
Barbie Pool Party for Breast Cancer 4-7pm
Royal Coronation 7pm
Saturday, Oct 21 --
Roaring 20's Pool Party 12-4pm
Goombay Bash at Southernmost
Fantasy Fest Poster Signing at La Concha 3-5pm 
Arena Rock Show at Sunset Pier -free 7-9pm
Sunday, Oct 22 -- Get Ready for Zombies to Invade Key West
For the locals, the party doesn't start until the Zombie Ride. 
East Martello 2-6pm
This is a huge event that locals love with thousands attending. Grab your bike, skateboards or anything on wheels and get ready for a crazy ride! It starts at East Martello and this year ends at the Amphitheater for a dance party. It's about 4 miles and a very slow bike ride but so worth it! 
 Check out our Halloween Collection for some zombie accessories. 
Monday, Oct 23 -- Pool Parties, Martini's and Burlesque
What better way to nurse your zombie hangover than a pool party and rubber duckies! 
Perry Hotel 12-4pm
Virgilio's 6-7pm
Key West Theater 7-10pm
After a day in the sun, head over to Virgilio's for Martini Monday. Best martinis on the Island! Grab some food, you're going to need it, and then head over to Key West Theater at 7pm for an amazing Burlesque Show. Don't forget to buy tickets in advance. It's sure to sell out. 
You can always Kink it up a notch and go to the Kinky Carnival. After a couple martinis, who knows. 3 hour open bar, fetich and bondage rooms. Must wear kinky costume to enter. 
Tuesday, Oct 24 --

TuTu's Everywhere, Animals and Party in Plaid! 
Dantes Pool 11-5pm
TuTu Party 5-?
Cocktails for Animal Tails 8pm
The only thing that matters on Tuesday is TuTu's! Sure, you can hit Dantes Pool during the day for a Patriotic Pool Party, but make sure you have your tutu ready to go. This is a huge event and a local favorite. Why not do them all? Wear a sexy plaid costume, tutu of course and add some cute animal ears and tail. You will want to finish your night at the TuTu party, so feel free to strip out of your animal accessories and plaid. And if you really planned it right, you'll have your LED Pasties and Body Stickers underneath and ready to go matching your neon tutu!  
 Wednesday, October 25th--Time to Glow Up
Bar Crawl at Southernmost - 2pm
Pet Masquerade - 5pm
Luv2Glow - 8pm 
Time for a bar crawl contest or a pool party, then you don't want to miss the 11th annual Luv2Glow party at Ricks upstairs. Another local favorite and this year is animal themed. Get your hands on these neon cheetah print body stickers or Blacklight Body Stickers and LED Pasties.
Thursday, October 26th-- Horns in the Pool, Toga's, and Pink!
Dante's Hallow and Horns 12-6pm
Rock the Tatas 7pm
Toga Party Sloppy Joes 8pm
Pink Party Fat Tuesday's 8pm
Headdress Ball 8pm
Start your day at Dante's pool and decide if you're a devil or angel. Always a great time and it's sure to be packed so reserve a table early. After a day in the sun, head over to Hanks and Rock your Tata's for Breast Cancer. Enter the contest and don't forget your LED Pasties to impress the judges. After that, throw on a togo or some pink, or a pink togo, and head to the next party.
Friday, October 27th--Fantasy Market and So Many Parties!!
Fantasy Market 10am-3pm
Topless Beach Bunny Pool Party 12-5pm 
EDM at The Amphitheater 4pm
Masquerade March 5:30pm (local favorite)
Pirate Party 6:30-10pm
Living Art Expo 7pm
Unicorn Party 8pm
Rockhouse Fantasy Land 10:30pm
Saturday, October 28th--Parade Night
You really can't miss the street parade if your anywhere downtown. This amazing parade shuts down the streets with out of this world floats and entertainers. If you can find a spot on a balcony or buy tickets to a balcony party then I highly recommend it. The streets our overly crowded and you will be lucky to see anything without getting drinks spilled on you. Trust me, find a balcony! After the parade, head over to one of the naughty parties to continue the fun. 
Sunday - Sleep, Go Home, or Party Some More.
If you have kids, check out Children's Day at Bayview Park. Send them on rides while you nurse your hangover. 
Enjoy this year at Fantasy Fest and I hope I spot a lot of Sasswear. I know I'll be wearing it! 
XOXO, 
Kelly
*There are many more events not listed. You can check out www.fantasyfest.com for the official event info.